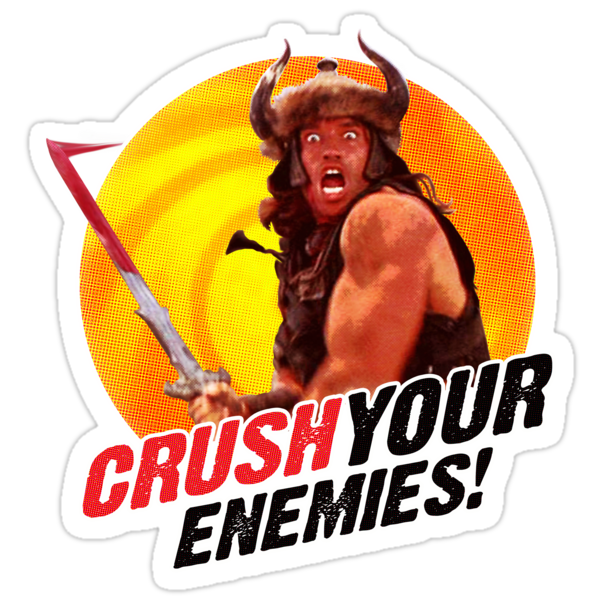 I don't exactly 'get' all the references to enemies found in the Psalms. Now I know that David was writing out of a fairly real and present danger of personal and national enemies throughout his lifetime. It seems understandable that he would write about the stuff he was struggling with at the time.
I don't have enemies. I don't believe I have any personal vendettas against my person (unless you count the thugs over at the dance mafia wanting me to quit my 'special moves'). I am not so deluded to think that there aren't people who are disappointed with me, frustrated with me, annoyed, hurt or even ticked at me. But I am not in any significant battle against anyone. So on that level 'enemies' does not connect. So few of us are in positions of the sort of power where we could identify the characteristic features of enemies plotting to destroy us.
Even the more euphemistic versions of enemies leave me stumped. At times I hear of people talking about enemies in a sort of symbolic way (Like how emotional or physical pain and suffering are enemies that need to be vanquished). I am not belittling these struggles in the least – I just wonder about whether labelling them as enemies is the most helpful way of framing these types of struggles. The motif of a battle/war against these difficulties has certain appeal to be sure. It worries me a little when we frame these things in the win/lose paradigm that this imagery entails. Plus I am not sure that this sort of euphemistic interpretation is the most honest way to get at the meaning of David's texts in Psalms.
It's actually a wonder to me that more revolutionary leaders have not cottoned to these passages as ways of spiritualizing their military actions. I could see any number of despots contorting these scriptures to rally the underlying spirituality especially in some of the countries with strong ties to the ancient Roman Catholic traditions…
My enemies are evil.
They will trip and fall
when they attack me
and try to eat me alive.
When I'm in trouble,
he will keep me safe in his house.
He will hide me in the safety of his holy tent.
He will put me on a rock that is very high.
Then I will win the battle
over my enemies who are all around me.
In the end I am not really sure what to do with these passages and specifically this type of terminology. It is even more perplexing when I consider the tradition of pacifism that forms my background and is evident in the life of Jesus. Does God takes sides in war? Or is all killing a horror to God? If He takes sides in war might he takes sides in less dire situations in life? Notice that David says that his reliance on God will provide him victory over his enemies. David does not say that God will help him negotiate a peaceful settlement that ends the violence. Anyone else perplexed?